In 1998, SPRUCE has quickly become one of New York's top Flower Shops receiving attention and acclaim from The New York Times, Vanity Fair, Food & Wine, Town & Country, Glamour, Martha Stewart Wedding, In Style Weddings, Woman's Day, Vogue, Victoria and Time Out New York.
SPRUCE has received the second highest rating in Zagat, and Citisearch, and was featured in "The Best Of" in New York Magazine's 1999 issue. SPRUCE has many celebrity clientele and is called on daily to design for New York's elite.
In October of 2005, SPRUCE announced the opening of their second store in the heart of Chelsea. Built to be the most high-tech, visually stunning flower shop in the world, the cavernous, ultramodern space feels like a cross between The Museum of Modern Art and the nightclub Crobar.
With Marianna as creative director , Spruce will launch their first Flower Shop on wheels. The Spruce Bus will be hitting the streets of LA in January of 2020! To visit the bus, check out our website for daily locations or call 323.660.9300.
Event Sites
Lincoln Center, Tribeca Rooftop, The Lighthouse and Pier 60 at Chelsea Piers, Tribeca Grill, 632 Hudson, The Penn Club, Jade Jagger Studio, The Puck Building, The Harmony Club, The New York Public Library, The Bronx Botanical Garden, The University Club, Cipriani, The Peter White Studio, Four Seasons Restaurant, The Rainbow Room, Penthouse 15, The Waldorf Astoria, Gotham Hall, The Whitney Museum, Brooklyn Botanical Gardens, The Explorer's Club, The Boathouse in Central Park, Angel Orensanz Foundation, The W Hotel, The Picnic House in Prospect Park, Candela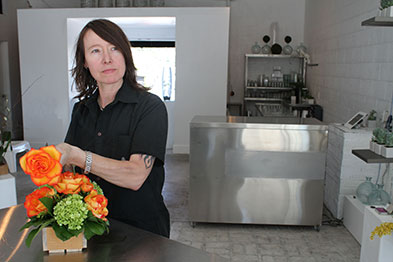 Gaige Clark, also known as #TheFlowerMaster, founded one of New York City, and Los Angeles's most highly acclaimed and awarded flower boutiques. Since opening Spruce on Greenwich Avenue in NYC in 1998, Clark's designs have appeared in movies, TV shows, music videos, and commercials. Gaige has been featured in over thirty national and ten international publications. Her designs and integrity have also attracted an exclusive list of celebrities, socialites, politicians, and royalty from around the globe.Clark's visionary brand of floral design, coined "New England Garden," arose from her family settling in Massachusetts over 367 years ago. Her inspiration came from he grandmother, Marion Leary, who founded the Hudson Gladiola Flower Farm in the 1940's .Clark has grown the brand and developed a new line of plant based Botanical Products and a new style of flower art. Gaige was always involved with her community and has always been an activist and advocate for children and minority inner city students. While in Los Angeles she was very active in her Silverlake community as a business owner, a member of The Micheltorena Community Garden, a volunteer teacher at Woodcraft Rangers, an afterschool arts program.